Advanced Tree is the premier Outer Banks tree service. A full-service tree and land management company located in Kill Devil Hills, NC, Advanced Tree is the only Outer Banks tree service that is fully insured featuring several licensed arborists. Our team is qualified, courteous and ready to help.
We always offer customers professional, free estimates. Professional tree removal companies invest in their insurance, proper equipment and safety. Advanced Tree follow the standards set by the International Society of Arborculture (ISA) to ensure that each job runs safely and effectively. Remember, sometimes accepting low estimates can result in high liabilities. Customers are welcome to contact our office for free advice.
Outer Banks Tree Service Specialists:
Outer Banks Tree Services – Residential
Advanced Tree services every town on the Outer Banks and surrounding areas. We have a fleet of specialized vehicles and state-of-the-art equipment that helps us get your trees taken care of efficiently and safely. Plus, we leave your property with all limbs and tree trunks cleaned up – all you see are the picturesque results. View more on residential Outer Banks tree services here.
Outer Banks Tree Services– Commercial & Municipal
Advanced Tree specializes in Outer Banks land management, pruning and tree preservation. A recent project completed at the Elizabethan Gardens in Manteo displays Advanced Tree's preservation and view-enhancement skills. We also worked successfully with Thorton Construction Inc., Albemarle Hospital in Elizabeth City, the National Trust for Historic Preservation, the Town of Southern Shores and Kitty Hawk Elementary School, just to name a few. We take pride in our professional skills that allow us to be a trusted Outer Banks company.
Outer Banks Tree Services – Lot Clearing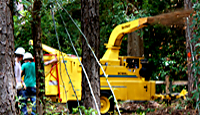 Advanced Tree Service offers free consultations for Outer Banks land clearing and other large land management projects. We don't just do the job; we do the job right.